There are a number of common electrical problems that affect your home and some of these problems can be solved easily with a few basic tools. We will look at some of the electrical problems you can solve easily at home.
Harmless Electrical Problems
Loose Outlet
If you are faced with a loose outlet, you will need to first turn off the breaker. Check for voltage to the outlet using a volt meter or you can plug in something. Unscrew the outlets cover plate and add shims up to the point the outlet is in line with the wall.
A Broken Switch
If you have a broken switch, turn off the breaker or ensue the lights switch is off. Use a flat screwdriver to take off the faceplate and a Philips head to remove the affected switch. Test the 2 wires connected to the screw to find out if there is electricity passing through. If there is electricity, disconnect the switch and reassemble it. Probably the connection is behind the malfunction.
Simple Shorts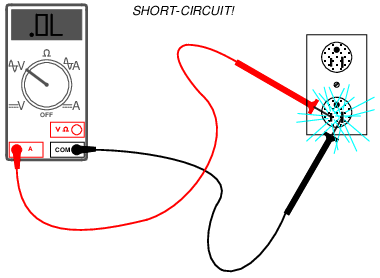 The use of some electrical appliances in a home can result in the shorting or tripping of circuits. The solution is simply to reset your breaker. If the tripping occurs with the use of the same appliance, then this shows that it is not an electrical fault, it's a problem with the appliance. If the short is occurring even without the use of an appliance, then this might be a problem that requires the expertise of a professional electrician.
Damaged or Cut Extension Cords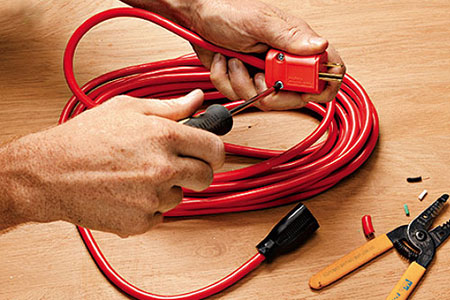 If you suspect that the extension cord is damaged, unplug both ends. Cut the old cord and peel the insulation jacket gently. Strip each of the wires and twist the end gently. Screw them back with green to the green screw, white to the silver screw and black to the gold screw. Close the plug ensuring that the wires are secure. If the cord is cut in the middle, just buy other ends and turn the old cord into 2 new cords.
Hazardous Electrical Problems
These are some hazardous electrical issue that will probably be best left for electricians who are knowledgeable in dealing with such problems.
Dimming or flickering Lights
This is mostly a sign of poorly done connections and can result in eventual arcing. Corrode or lose connections making connections can lead to sparking, overheating and even fire. This is a great risk and should be addressed by a professional as soon as possible.
Frequently Burning Our Light Bulbs
If your home light bulbs are frequently blowing out there could be a great underlying electrical problem than just the common overuse. There might be a circuit or socket with a lose connection. If the lights are recessed and usually fail often, there could be over heating caused by insulation and the shut off designed to prevent any fire incidents.
 Dysfunctional Outlets
A dead or dysfunctional outlet can be a result of poor connection or arcing. Sometimes a tripped breaker can be the cause due to excess heat that melts the outlet or wires.
Warm Switches/Outlets
Unless the problem is in a dimming switch, a warm outlet or switch is a serious problem and should be handled by a professional electrician as soon as it is noted.
Tripping Breakers
If your breakers are frequently tripping, then this might mean that there is overloading or the appliance in your home are consuming excess electricity. To solve this, you will need a circuit addition and also consider electrical upgrade services
Are You Dealing With Electrical Problems?
If your home is full of electrical problems it becomes a risk to you and your family. DIY in electrical issue is not encouraged especially when the problem you are trying to solve is beyond your knowledge. If you do not have the skills or the tools to solve electrical problems in your house, just let the professionals do the work for you.
Contact Fail Safe today and let our professional electricians handle all of your electrical problems to make your home a safer place to live in and to correct any malfunction that might be affecting the use of your house appliances.